Clippership / BluJay Parcel
Clippership&reg, also known as BluJay Parcel and developed by BluJay Solutions, is one of the most widely deployed and recognized shipping solutions on the market today. This powerful PC-based solution enables organizations to ship with multiple carriers from one application, eliminating dedicated workstations for each carrier.
When used in conjunction with Kewill.Integrate (KI), an object-oriented integration tool, Clippership can be highly customized to integrate with virtually any back office, order management or WMS system, enabling users to streamline the order fulfillment process.
All the above software is site-licensed and multiple Clippership workstations can share the same shipment information from one central network location. Clippership also allows for multiple shipper accounts so that each of your sub-companies can bill through their own respective carrier accounts.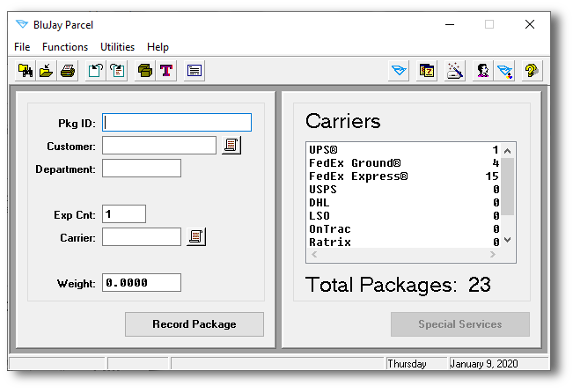 We Know Clippership...
Our in-house engineers have been installing & customizing Clippership systems for over two decades and have automated its shipping functions into numerous interfaces.
Some integrations include, but are not limited to:
Web Services & FTP Hosts
SQL through virtually any ODBC connection
Screen scrape with clipboard compatible applications
DDE client-server connections
Import-export to fixed, delimited or DBF files

Natively Supported Carriers

FedEx Express
FedEx Ground
FedEx SmartPost
DHL WorldWide Express
LTL Carriers

United Parcel Service
UPS Mail Innovations
UPS SurePost
Lone Star Overnight


U.S. Postal Service (manifesting)
Rated Regional Carrier
Non-rated Regional Carrier
OnTrac
Integrated Systems Supported Carriers

Canada Post
DHL SmartMail
Purolator International

Canpar Express
Nationex
USPS Internet Postage

DHL GlobalMail
Purolator E-Ship
UPS NetRater
As an enhancement to the standard Clippership product, we have developed an interface to UPS Web Services that enables our customers to use their UPS contracted rates during package processing. This makes rate shopping much more powerful, reduces system maintenance costs, and saves valuable time. The rate returned includes all fees including fuel surcharges.
Custom Carriers
Integrated Systems can add virtually any small parcel carrier or LTL/LT carrier to Clippership as needed. Please call for details.
Internet Postage Vendors
Internet postage vendors are taking over the shipping industry by storm by offering low cost shipping rates and providing house level address validation. Our company is an Integrated Partner with two of the major vendors - Stamps.com & Endicia - and has developed a set of tools to seamlessly integrate their services into Clippership. Learn how these vendors can help your company save on shipping costs.

With today's dimensional weight madness given to us by the carriers, Clippership's powerful rate shopping features, along with our IN-KCS Mail for Endicia to set the residential flag, can have you rate shopping dim weighted cartons for the best rate almost effortlessly! For small pieces, including USPS First Class Package and Priority Mail with Commercial Pricing in your rate shop against UPS or FedEx can provide significant savings with some improved transit times. If some of your packages qualify for Priority Mail Cubic pricing, the savings get deeper for these packages weighing up to 20 lbs and measuring no more than 0.5 cubic feet in volume! Contact us today for a free analysis to find out how much you can save with rate shopping!
BluJay is a leading provider of software solutions that enable enterprises and logistics providers to manage the movement of goods and information across the globe.

We deliver innovative software for business-critical global supply chain requirements through our three product suites: Logistics, to support freight forwarding, transport, warehousing and customs compliance; Transportation and Shipping, to enable parcel, LTL, TL and desktop shipping and export trade compliance, and; Business to Business Integration, to drive B2B eCommerce, order management and supply chain integration.