ShipInquest™
ShipInquest offers a unique hands-free approach to package tracking. Each evening, ShipInquest will automatically launch at a predetermined time, track applicable shipments, and then update Clippership with tracking progression. Tracking results are then stored indefinitely within the Clippership historical files.
And that's not all - during the first initial tracking sessions, ShipInquest will also attempt to track all of your older shipments too. This enables users to gain access to tracking results for packages that were shipped months prior to the ShipInquest installation.
Why track every package?
During a dispute, your organization may be asked to provide proof of delivery for previous shipments. And depending on the age of the shipment, the carrier may no longer have that information available. With ShipInquest, users will have unlimited access to package delivery statuses at a moment's notice.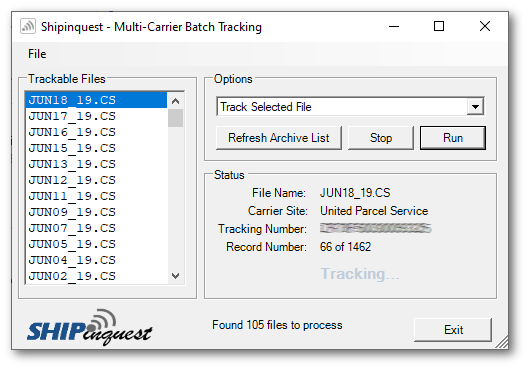 So how do you retrieve tracking results?
Tracking results can be viewed from within Clippership's Void/Search/Browse utility or the Clippership data can be exported to a file or printed on a custom report.
For best results, we suggest using WinServ and its powerful search engine to easily locate, view, and extract tracking results spanning over multiple days to CSV or Excel.
| | |
| --- | --- |
| | We are pleased to inform you that ShipInquest™ is developed & maintained by our own in-house engineers. We pride ourselves in providing outstanding software with the highest level of customer support. |